Guide of bisexual groups and initiatives in Europe. Enjoy the diversity! *)
Austria
Bisexuals in Austria – VisiBIlity Austria: Facebook group, Facebook page and website – monthly meetings in Vienna
Belgium
Bisexuals in Belgium – Facebook page Bisexual / Bisexuel – Belgique Belgium
Antwerp – Dubbel-zinnig
Brussels – Ambigu – Facebook profile, Facebook group and website in Nederlands, Français and English
Hasselt – Facebook page Ertussenin and website
Denmark
Bisexuals in Denmark – Facebook page Bigruppen (LGBT Danmark)
Copenhagen – Bigruppen (the Bi group) in LGBT Denmark and Bipolitisk udvalg (the Bipolicy committee) in LGBT Denmark
Finland
Helsinki – Bi-naiset – Bi-Women's group of the Feminist Association Unioni
Jyväskylä – Bi-ryhmä (Seta)
Tampere – Bipan+ -ryhmä (Pirkanmaan Seta)
France
Nice – Bi'Cause Nice
Paris – Bi'Cause website and Facebook page
Paris – Cercle B at MAG Jeunes LGBT
Strasbourg – Biloulou-ve-s
Toulouse – Bi Visible website and Facebook page
Bi blog – Le Biplan
Bi forum – bisexualite.info
Germany
German Bisexual Network – Bisexuelles Netzwerk (BiNe) e.V.
Bisexuals in Germany – Facebook page and Yahoo group
Berlin – Bi Berlin website and Facebook page
Hamburg – Stammtisch Bi & Friends HH website and Facebook page
More local bi groups in Germany
Bi blog – Bisexualitaet website and Facebook page
Bi forum – Liebe-Leben-Leute.de
Bi magazine – BiJou – Bisexuelles Journal website and Facebook page
Greece
Bisexuals in Greece – Bi Sparkle – Facebook group, Facebook page and blog – meet-ups in Athens
Ireland
Bisexuals in Ireland – Bi+ Ireland Network – Facebook page and group (secret, send your membership request to the moderators of the Bi+ Ireland Network) – meet-ups in Belfast, Cork, Dublin and Galway.
Facebook page Bisexual Visiblity in Ireland – marriage equality
Italy
Bisexuals in Italy – Facebook group Bisessualità e Bisessuali : il gruppo di AutoMutuoAiuto virtuale
Bi Visibility Day Italy – Facebook page Giornata Internazionale dell'orgoglio e della visibilità bisessuale
Bologna – Facebook page Bproud and blog bproud.it
Verona – Facebook page Bisessuali pansessuali e queer Italiani, Facebook group Bisessuali e Pansessuali del Veneto and blog Bisessuali Italiani
Sardinia – Facebook group Bisessualità e pansessualità Sardegna : gruppo di supporto e confronto
Netherlands
European Bisexual Research Conference and European Bisexual Conference– Amsterdam 28-31 July 2016
Dutch Bisexual Network – Landelijk Netwerk Biseksualiteit (LNBi) – Facebook page Landelijk Netwerk Biseksualiteit (LNBi), Facebook group LNBi groep and website
Nijmegen – Facebook page Bi Café Nijmegen
Annual Dutch bi conference – Holland BiCon – Facebook page and website
Bi forum – Het grote Bi-forum
Bi Women's Group Bijou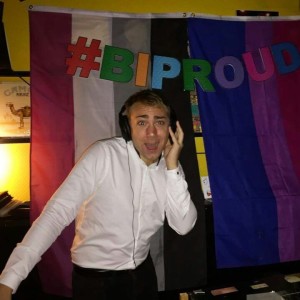 Norway
Bisexuals in Norway – Facebook group Bifile i Norge
Oslo – #biproud – Activities in FRI Oslo og Akershus
Poland
Bisexuals in Poland – Facebook page Biszkopty
Portugal
Lisbon – Facebook page Actibistas – Coletivo Pela Visibilidade Bissexual
Serbia
Bisexuals in Serbia – Facebook page and group Biseksualke i Biseksualci Srbije
Slovenia
Bisexuals in Slovenia – Facebook page KVartIR – for visibility, networking and raising awareness of bisexual, transgender and asexual identities
Slovakia
Bisexuals in Slovakia – Facebook group and website Bi- Centrum – Bisexuálne Centrum.
Spain
Barcelona – Enrenou Facebook page and group – for bisexual activism and other plurisexual identities
Madrid – Facebook profile Grupo Bi (Cogam)
Madrid – Facebook page Área Bisexualidad (Felgtb)
Valencia – Facebook page La Banda de Moebius
Canary Islands – Tenerife – Area Bisexual (Algarabía)
Canary Islands – Gran Canaria – Facebook page Bithopia Comunidad Bisexual Canarias
Bi blog – STOP Bifobia Facebook page and group
Sweden
Bisexuals in Sweden – BiQuPan Facebook group and Facebook page for meet-ups in Göteborg, Lund, Malmö, Stockholm, Uppsala and other places BiQuPans evenemang
Göteborg – Bi-gruppen, RFSL Göteborg Facebook group
Malmö Lund – BiQuPan Malmo Lund Facebook group
Uppsala – Bi, pan och multifika Uppsala (öppen grupp) Facebook group
Switzerland
Bi portal – bi-net.ch
Basel – Bisexuelle Basel – HABS
Bern – Homosexuelle Arbeitsgruppen Bern (HAB) – Gesprächsgruppe Bi-/Pan
Genève – Association 360 Groupe Bi
Zurich – Homosexuelle Arbeitsgruppen Zürich (HAZ) – HAZ Bi-Gruppe
UK: England – Scotland – Wales
Local groups guide by Bi Community News
Bi's of Colour – The Tumblr space for the UK Bi's of Colour group.
BiCon Continuity Ltd – The UK bisexual community charity.
Bi Community News – Britain's bimonthly bisexual magazine since 1995. News, opinion and community information across the UK.
Biscuit – Online magazine for girls who like all genders.
BiMedia.org – Bi news.
Bisexual Index – To point out that bisexuality exists, highlight biphobia and direct you to UK's bisexual community.
UK BiCon – Annual UK bi conference.
Europe
European Bisexual Network for Activists – more information
World
Bi Visibility Day – Since 1999. Celebrating Bisexuality every year on 23 September. #bivisibilityday #biweek
* Hilde Vossen has compiled this Bisexual Guide to Europe with the utmost care. Yet it may occur that your favorite group or bi initiative fails. Please, let us know! We're looking forward to your feedback.