List of most exciting research resources *) on bisexuality. Both academic and non-academic.
Content
Bi Research Discussion Groups
Bi Research Archives
Bi Research Events
Bi Research Projects
Bi Research Publications
Project bi book
Project bi brochures
Research Institutes, Knowledge Centres and Networks
Bi Research Discussion Groups
– Academic Bi – International mailing list for discussion, exchanging information and ideas about topics related to bisexual theory, queer theory and the academic study of bisexuality/pansexuality/fluidity.
– Bi Research Group – UK based email list to encourage the advancement of research and theory around bisexuality including networking, collaborative research and sharing resources.
Bi Research Archives
– Bisexual Research Archives – Tag 'research' on BiMedia.org
– Bisexuality – Research Archives on Academia.edu
– IHLIA Amsterdam – LGBT Heritage – archives, exhibitions, lectures, seminars
– Journal of Bisexuality – The main academic journal on bisexuality.
– Shiri Eisner (Tel Aviv, Israel/Occupied Palestine): Bisexual theory sources (November 2012) and Ten recommended articles in bisexual theory/studies (including files) (January 2013)
Bi Research Events
28 July 2016 | 1st European Bisexual Research Conference (EuroBiReCon) 'Bisexuality and (Inter)National Research Frontiers' – University of Amsterdam, The Netherlands – Call for Papers – Keynotes – Registration Fees
Bi Research Projects
– Skylar Leslie (USA/NL): Structural Changes Organizations Can Implement to Provide Bisexual Employees with Visibility and Social Comfort (questionnaire closed 31-12-2015, NL, intern at Workplace Pride, international platform for LGBT inclusion at work)
– Emiel Maliepaard (NL): research on the everyday experiences of bisexual youth (18-35 years) (ongoing, Dutch)
– Nikolett Mester (HU): research on bisexuals (ongoing, Hungarian/English)
– Carol Shepherd (UK): The construction of a positive bisexual identity within a Christian ethical framework – Bisexual Christian Mental Health (ongoing, English)
– Jen Yockney (UK): Bi History Project (ongoing, UK)
Bi Research Publications – academic and non-academic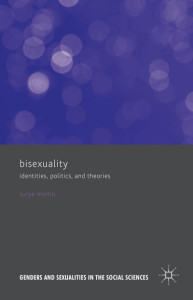 – Surya Monro: Bisexuality; Identities, Politics, and Theories (Palgrave Macmillan, UK, July 2015) – buy English
Bisexuality has been largely erased from studies of sexuality and gender, and people who desire others of more than one gender often remain invisible. This book sets a new agenda for considering sexualities and genders, by focusing on the lives of people who are bisexual or who have other identities that are not heterosexual, lesbian or gay, in an international context.
– Jacq Applebee: The Bi's of Colour History Survey Report (UK, June 2015) – download English
First of its kind in the UK. What little information on bisexuality that exists, tends to minimise or ignore the intersections of ethnicity, class and sexuality. This report informs about lives and stories of bisexual people of colour.
– Equality Network Scotland: Complicated? Sam Rankin, James Morton and Matthew Bell (UK, May 2015) – download English
First of its kind in the UK. Focuses specifically on bisexual people's experiences of accessing services. The report reveals some very shocking statistics and personal stories. But it also highlights examples of good practice and ideas for services about how they can be more inclusive for bisexual people.
– Shiri Eisner: Bi: Notes for a Bisexual Revolution (Tel Aviv, Israel/Occupied Palestine, July 2013) – buy English
Informed by feminist, transgender, and queer theory, as well as politics and activism, Bi is a radical manifesto for a group that has been too frequently silenced, erased, and denied—and a starting point from which to launch a bisexual revolution.
– EU Fundamental Rights Agency: Fear, isolation and discrimination common in Europe's LGBT community (Austria, May 2013) – download English – explore the bisexual data of this EU LGBT Survey 2012 via the filters 'bisexual women' and 'bisexual men' in the Survey data explorer – read more survey information
The European Union lesbian, gay, bisexual and transgender survey, or the EU LGBT survey, is the EU's largest LGBT hate crime and discrimination online survey ever conducted. The report shows that many lesbian, gay, bisexual and transgender (LGBT) people cannot be themselves in their daily lives. Many hide their identity and live in isolation or even fear. Others experience discrimination, and even violence, when being themselves.
– Open University: The Bisexuality Report Meg John Barker, Rebecca Jones, Christina Richards, Helen Bowes-Catton and Tracey Plowman, with Jen Yockney and Marcus Morgan (UK, February 2012) – download the report English, Spanish – download the flyer English
First of its kind in the UK. Summarises national and international evidence and draws out recommendations for future bisexual inclusion in many different settings.
– San Francisco Human Rights Commission: Bisexual Invisibility: Impacts and Recommendations (USA, March 2011) – download English, Spanish
Incredible report that gives important information about how bisexual invisibility is perpetuated and how it detrimentally affects the community's mental and physical health.
– Linköpings Universitet: Blandade känslor: bisexuella kvinnors praktik & politik Malena Gustavson (Sweden, August 2006) – buy Swedish
First thesis of its kind in the Sweden. Malena Gustavsson's dissertation Mixed feelings: bisexual women internship & politics is based on bisexual women's interview narratives and practices. It deepens the knowledge of bisexual women's lives in Sweden.
– Catherine Deschamps: Le Miroir Bisexuel. Socio-anthropologie de l'invisible (Éditions Balland, France, February 2002) – buy French
Fondé sur l'observation de la seule association bisexuelle française ayant pignon sur rue, le présent ouvrage met l'accent en priorité sur les caractéristiques identitaires, politiques et culturelles. La bisexualité apparaît alors , comme le terrain d'observation privilégié de l'ensemble des orientations sexuelles. Elle permet de la sorte une déconstruction des normes les plus insidieuses, communes à toutes et à tous. Car la bisexualité, plus qu'une identité pertinente en elle-même, est une délatrice de l'invisible, qui ouvre, non plus à une approche diffractée de la différence, mais à une compréhension holistique du phénomène des sexualités.
Project bi books
– English, project started in October 2015: Purple Prose – Bisexuality in Britain
– Spanish, project started in March 2013: Proyecto Libro Bisexualidad – Book on bisexuality in Spanish with contributions from all over the world
Project bi brochures
– Biphoria Manchester (UK): Getting Bi in a gay/straight World (2nd edition 2014) – download English, Spanish
A pocket-sized guide to coming out and staying out, as distributed to venues across Greater Manchester and beyond including many Pride stalls. Based on experiences of BiPhoria.
– Jürgen Höhn: Gedanken zu einer Ethik für (bisexuelle) Menschen in Liebesbeziehungen (zBi-Berlin Zentrum für bisexuelle Lebensweisen, 6. erweiterte Auflage 2011, Druck 2014) – buy German
Broschüre für Bisexuellen und ihren Angehörigen. Diese kleine Broschüre (75 Kapitel, 100 Seiten) für Menschen auf der Suche nach Anregungen für neue Partnerschaftsmodelle zeigt den theoretischen Hintergrund unserer Beratung für Bisexuelle und deren PartnerIn, ist aber auch allgemein ein Ratgeben für Liebende, unabhängig von der sexuellen Ausrichtung.
– FELGTB (ES): Argumentario Bisexualidad FELGTB (2013) – El documento básico del Área Bisexual. Anímate a conocerlo – download Spanish
Indice: Definición de bisexualidad. La bifobia y los mitos sobre la bisexualidad. Historia y evolución teórica sobre la bisexualidad. Evolución teórica.
– Landelijk Netwerk Biseksualiteit (NL): Bi in Beeld (2012) – booklet about bisexuality and a traveling exhibition – download Dutch, English summary
– Movisie (NL): Biseksualiteit: 10 keer vraag en antwoord. (2015) – download Dutch
Many bisexuals don't come out for their bisexual identity. If they do, they often get negative reactions, even from homosexuals and lesbians. Knowledge is needed to fight these prejudices. Therefore Movisie and the Dutch Bisexual Network (LNBi) wrote a guide, packed with facts and figures.
– Stonewall UK: Bisexual People in the Workplace: practical advice for employers (2009) – download English, Spanish
Includes issues for bisexual staff, tips on how to develop effective policy and procedures, and how to engage bisexual employees.
Research Institutes, Knowledge Centres and Networks
UK – BiUK – The UK national organisation for bisexual research and activism
UK – Archives of previous UK national and international Bisexual Research Conferences – Programs, keynote speakers, videos.
USA – American Institute of Bisexuality – Encourages, supports and assists research and education about bisexuality, through programs likely to make a material difference and enhance public knowledge, awareness and understanding about bisexuality.
USA – Kinsey Institute – Works towards advancing sexual health and knowledge worldwide.
* Hilde Vossen has compiled the list above with the utmost care. Yet it may occur that your favorite suggestion for a bisexual research resource fails. Please, let us know and we can expand this list together.