List with useful links*) for your time in Amsterdam during EuroPride 2016, and more.
Content
For visitors
LGBTQIA from A to Z
Where to eat
Where to stay
For visitors
'Some tourists think Amsterdam is a city of sin, but in truth it is a city of freedom. And in freedom, most people find sin.' – John Green, The Fault in Our Stars
Amsterdam tourist office – Official Visitor Information Centre VVV at the Central Station
I amsterdam > I am visiting iAmsterdam card – What's on – Shopping – Getting around – Things to do – Festivals – Eating and drinking – Nightlife – Visitor Centres
Visit Amsterdam – National Board of Holland Tourism
LGBTQIA from A to Z
– COC Netherlands – COC Nederland
– Dutch Bisexual Network – Landelijk Netwerk Biseksualiteit (LNBi)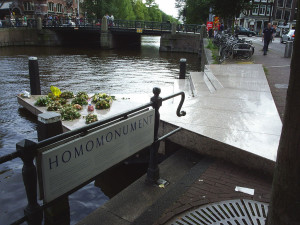 – Homomonument Amsterdam
– IHLIA Amsterdam – LGBT Heritage – archives, exhibitions, lectures, seminars
– LGBTQ Amsterdam – café Inclusion
– Polyborrel Amsterdam – 'Borrel' means 'drink' in Dutch.
– Café Saarein
– Squirt du Soleil – Queer BDSM play party, for girls, boys and any kind of gender.
– TranScreen Filmfestival Amsterdam
– De Trut – Feest – queer party
Where to eat
De Peper, Overtoom 301 – vegan organic culture kitchen run by a diverse and democratic volunteer collective
Molli Chaoot, Van Ostadestraat 55hs – café-bar – vegan food every Wednesday at 19:00 – pay with donation from 3 to 6 euro – you can't make reservations
SLA, Utrechtsestraat 10 HS, Westerstraat 34 – biological salad bar
Where to stay
Airbnb Amsterdam – online community marketplace that connects people looking to rent their homes with people who are looking for accommodations.
Amsterdam plan your trip – where to stay
Campings
AmsterdamCitycamp.nl – only for campers
Camping Zeeburg – only 15 minutes from city centre
Gaasper camping Amsterdam – only 15 minutes from city centre
Couchsurfing Amsterdam – hospitality exchange and social networking platform for members by staying as a guest at a host's home, or host travelers.
Hospitality Club Netherlands – Amsterdam, Noord-Holland
Hostels Amsterdam – Stayokay Zeeburg – Stayokay Stadsdoelen – Stayokay Vondelpark
LGHEI.org – Lesbian & Gay Hospitality Exchange International
* Hilde Vossen and Floris Zandbergen have compiled the list above with the utmost care. Yet it may occur that your favorite suggestion for this city of freedom fails. Please, let us know and we can expand this list together.