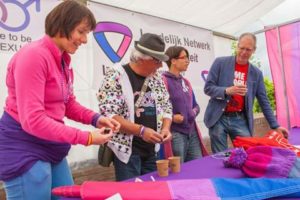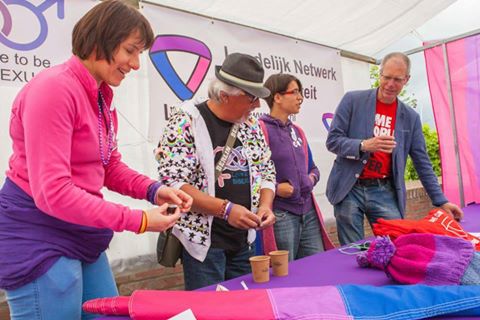 On Saturday July 30, the second day of the EuroBiCon, we will not only be hosting almost 30 workshops and our very own Party @ Mezrab, but we will also be hosting an Information Market.
The Infomarket will be held in community center De Boomsspijker from 11am until 2pm, and is for EuroBiCon participants only. The following organisations have confirmed to be present, and will be providing you with information concerning their work and/or to give you the opportunity to buy their products:
IHLIA LGBT Heritage – what about saving your organisations bi history in this international LGBT archive? Connie van Gils can give you advice about this. The stand also has EuroBiCon Bi Pride beanies for sale, hand knitted by… the same Connie van Gils.
Çavaria – the t-shirt Proud to bi myself is for sale here!
Musthave – Ines Rombouts sells sweaters, t-shirts, tote bags with Bi slogans that will make you want to have them for sure.
Female Health Company with the FC2 female condom
Orpheus Hulpverlening – for homosexuality and bisexuality in relations between men and women
AutiRoze – autistic and LGBT? AutiRoze is the young, Dutch organisation that offers you community on this specific health topic.
Paper Jam – printing the revolution facilitates a zine table. It's a a printing collective that strives to form part of a radical infrastructure in the form of bizarrely cheap printing for revolutionary organisations.
and, last but not least: the merchandise table of EuroBiCon! We have mugs, posters, beanies…
Important note: bring cash on Saturday!
Do you work for an organisation that should have a stand, too? This is still possible! Please contact EuroBiCon Programme Manager Barbara Oud.