Events in Amsterdam and beyond 2016
16 July – 28 August | David Bowie – the Seventies – exhibition by Gijsbert Hanekroot: color & black and white portraits, studio pictures and photographs of concerts. Eduard Planting Gallery Amsterdam
23 July – 7 August | EuroPride 2016 – Amsterdam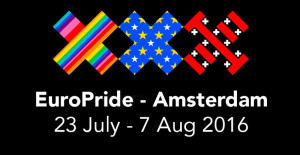 23 July | Dutch Bisexual Network has a meet & mingle bisexuals stall in the Vondelpark and a bisexual contingent in the Pride Walk with a HUGE BI PRIDE FLAG on Pink Saturday Amsterdam 2016! We gather together in the Vondelpark. Please find us near our Bi Pride flags at 18.30. We'll start walking at 19.00.
25 July | European Conference Spotlights on LGBT seniors – by Roze 50+ (Pink 50+) – Amsterdam. Admission free.
28 July | 1st European Bisexual Research Conference (EuroBiReCon) 'Bisexuality and (Inter)National Research Frontiers' – University of Amsterdam, location Oudemanhuispoort
29, 30 and 31 July | 3rd European Bisexual Conference (EuroBiCon) – Community Centre De Boomsspijker, Amsterdam
29 July | WorkPlace Pride Conference 'New Horizons for WorkPlace Inclusion – 10 Years of Progress and Pride' – Beurs van Berlage, Amsterdam
29 July | Recommended! Squirt du Soleil Revisited – Play party for all genders
29 July | Recommended! Gala Hommage Marlene Dietrich in Pathé Tuschinski
30-31 July | Milkshake Festival – Westerpark Amsterdam – For boys who love girls who love girls who love boys who love boys…
1-5 August | Summer school Sexual orientation and gender identity in international law, on key international law aspects: progress, consolidation, stagnation – Campus The Hague, The Hague
4-5 August | Proud In Europe? LGBTI Emancipation in Comparative Perspective – Amsterdam Institute for Social Science Research (AISSR), University of Amsterdam
Note:
Panel 20: Bisexualities and Equalities in a European context
Panel organiser: Surya Monro (University of Huddersfield)
4-5 August | Freedom at Work – EuroPride Trade Union Conference – Amsterdam
4-7 August | UK BiCon 2016 – The highlight of the bisexual year in the UK, University of Central Lancashire's Preston campus, Preston, UK
Note:
Did you know – if you attend EuroBiCon and Bicon 2016 this year – you can get a £5/5 Euro refund from each of them? Just email to eurobicon@gmail.com and bicon2016@gmail.com together!
6 August | Amsterdam Canal Pride – Amsterdam
23 September | Bi Visibility Day – Worldwide
* Hilde Vossen has compiled the list above with the utmost care. Yet it may occur that your favorite event fails. Please, let us know and we can expand this list together.