EuroBiCon: this is the list of Confirmed Sessions so far!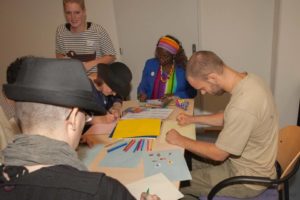 At EuroBiCon we expect about 60 sessions to happen across the long weekend, so there's always a lot to choose.
All sessions are run on a voluntary basis. Many people who go to EuroBiCon create the programme by offering fantastic workshops. We are grateful for that!
We now publish the list composed of sessions which have been approved. We are going to confirm more soon. All new entries will be added later and tagged with 'NEW'. So keep an eye on that exciting page!
Workshop descriptions will follow, and much nearer the time, we'll release a full timetable, as well as a handbook which will explain what each workshop is about, and, in some cases, who can attend.
To the list of Confirmed Sessions so far: www.eurobicon.org/programme
When you see the list one thing becomes very clear: you do not want to miss out on the EuroBiCon! Are you not registered yet? Do so today at www.eurobicon.org/registration
Photocredits: Erwin Heyl.